Great Exuma, Bahamas Articles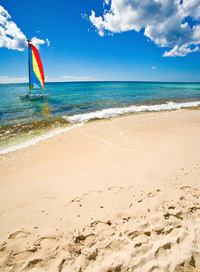 WARNING: Reading up on Great Exuma, Bahamas, will make you want to know more and more.
All articles below were written by Fred Coolridge.
Fred Coolridge is the content manager and author for the website Great Exuma Island, Bahamas.
---
You Want Paradise? Try Sandals Resorts - Sandals resorts destinations provides the vacation of a lifetime. Includes accomodation, activities, and dining information.
Great Exuma Sandals Resort in the Bahamas: Great Exotic Excitement - Information about the Sandals resort in the Bahamas including luxury accomodations, dining, spa, and golfing details.
The Exuma Islands – Golfer's Paradise
Discusses the Exuma golf at the Emerald Bay Sandals resort including costs and details about the Exuma islands.
Bahamas Travel Tips: How to Save Money on your Bahamas Vacation
For many of us, a trip to the Bahamas is a dream come true. We carefully manage our money all year round in order to pay for this long-awaited vacation in the sun.
Bahamas: A Family Vacation Destination
Every year, many families decide to take time away from their routine life and go on vacation to a place where there is no stress. But how does one decide where to go? If you are looking for the perfect family vacation, look no further than the Bahamas!
Lots to do at a Junkanoo Summer Festival
The Junkanoo Summer parade is actually a competitve event. There are four or five different groups who are judged based on the best costumes, dance and music.
Bahamas Cruise Tips – What you need to know
What cruise line is the best choice for you?
Not just Sun & Surf: Top 10 Things to do in Exuma, Bahamas
Discusses the 10 of the most popular attractions and things to do in Exuma Bahamas.
Planning your Bahamas Beach Wedding
What you need to know to plan the ultimate Bahamas beach wedding.
Swimming with Dolphins in Great Exuma
Discusses the great adventure of swimming with dolphins in the Bahamas.
The National Family Island Regatta: The World's Greatest Sailing Event
The National Family Island Regatta sailboat competition located in the Exuma Bahamas.
Bonefishing in Great Exuma, Bahamas
The thrill of bonefishing in Great Exuma, Bahamas.
The Many Wonders of Flamingo Bay
Discusses the Island of Flamingo Bay and its many wonders.
Great Exuma Island is the Perfect Caribbean Honeymoon Destination
Why is Great Exuma Island the perfect Caribbean honeymoon destination?
Enjoy the Bahamas with Adequate Sun Protection
How to enjoy the hot Bahamas sun with the necessary sun protection.
Celebrity Spottings in Great Exumas!
Many celebrities have been spotted in Great Exuma, Bahamas. Find out who.
Special guest article written by Robert Keir:
Great Exuma Bahamas First Ever Regatta 1954
This assignment was a highlight of a fascinating six-month stint in the Bahamas in 1954.
Want 'up to the minute news' right to your desktop?
Subscribe to our RSS News Feed Here