Bahamas Cruise Tips – What you need to know
Thousands of people take cruises in the Bahamas every year for various reasons. Without a doubt, two of the main reasons have to do with the spectacular weather and the beautiful beaches. While some people go to relax, others book a cruise to meet new people and have fun. Whatever your motivation is for taking a vacation from the routine of everyday life, the Bahamas is a great place to visit. Here are some Bahamas cruise tips that will inform you on what ship, time of year, and events are best for you.
Bahamas Cruise Tips: Which one is my dream boat?
Carnival Cruise Line and Disney Cruise Line offer fun-filled and family oriented vacations. With supervised activities available for children, parents can enjoy the getaways as much as the kids! In most cases, the ships are huge and guests can choose from a wide range of entertainment and dining options.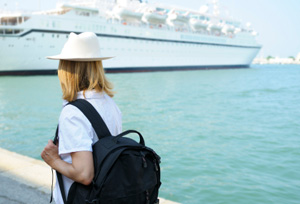 Those looking for a luxurious experience should check out the high-end Celebrity Cruise Line Guests are invited to view original works of art (often available for purchase), enjoy fine dining and vintage wines, and be pampered from head-to-toe in their world-famous spas.
For a more intimate setting, Windstar Cruises promote smaller-scale tours for adults only. Their ships accommodate only a few hundred people, giving them a private yacht ambiance. Guests often appreciate the cruise's intention for less entertainment and more peace and quiet. An added bonus is being able to dock in much smaller ports than larger ships.
There are many other choices of cruise lines, some of which cater to vacationers with specific interests. Some focus on spring break, some provide an open bar, some boast an exciting casino, and others are Italian-themed. The great selection of tours is part of what makes Bahamas cruises so popular.
When is the best time to go?
Important Bahamas cruise tips include knowing when to travel to this tropical paradise. With regards to weather, tourists should be aware that hurricane season in the Caribbean is between June 1st and November 30th. However, many still take Caribbean cruises during that period of the year even though they are at higher risk of encountering bad weather.
Holidays and Cultural Events
Participating in the multiple events celebrated in the Bahamas can make your trip much more memorable! Of course, Christmas Holidays and New Year's Eve/Day are great times to visit, but there are many other cultural events that are exciting and worthwhile.
Emancipation Day on August 1st celebrates the freeing of slaves in the British Empire. The first day includes a fun-filled footrace. The world-famous Bahamas Junkanoo Festival is held the following day in Fox Hill Village, near Nassau. Here tourists are invited to enjoy an outstanding feast of locally-prepared foods, while musicians compete against one another. Another Bahamas-specific event is July 10th – Independence Day. Beach parties are in full swing and fireworks are displayed all over the Bahamas, the largest celebration being on Paradise Island and in Nassau.
Things to do
In the water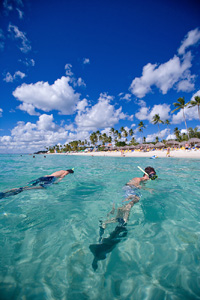 The natural beauty of the Caribbean islands is breathtaking and some activities allow guests a closer look. Scuba diving is a popular attraction in the Bahamas; Andros Island is said to be the best place to dive and explore.
Another exciting underwater excursion is Hartley's Undersea Walk. Air is pumped into lead masks that bring guests to the ocean floor, allowing them to interact with marine life.
Swimming with the dolphins has become an extremely popular activity that takes place on Blue Lagoon Island. Participants can feed and pet the dolphins; however, visitors should book early. Also located on Blue Lagoon Island is Stingray City where tourists can actually swim with these friendly fish. In all the underwater activities, natural coral and colorful fish abound, so do not forget your waterproof camera!
On land
For those who prefer to be on foot, the Versailles Gardens are spectacular! Even though they are located on hotel grounds, they are open to all, free of charge. In addition to exotic tropical flora, the gardens feature French statues and art work.
Golf-enthusiasts can enjoy some of the world's most beautiful courses on Grand Bahama Island and Paradise Island, while those looking for a taste of culture and history can visit the Queens Staircase. This is a walking tour of Nassau, featuring a 102 feet high staircase built by slaves in 1793. Interesting sites are plentiful!
Whatever ship you choose to set sail on, your destination should be the Bahamas - a great spot to relax and have fun!
About the Author:
Fred Coolridge is the content manager and author for the website Great Exuma Island, Bahamas - www.exumabahamas.org.