Bone Fishing
WARNING: Bonefishing does not mean that you will be hoping to catch bones!
Bonefishing is one of the unique sports practised in the Bahamas. Using fly-fishing techniques and sand flats as a location, you attempt to catch the elusive, yet beautiful, "Bonefish". Many people like to go out in boats to attempt to make their catch, while other anglers prefer to wade out to the flats to fish.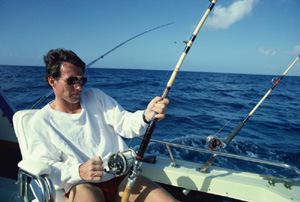 Although "Flats fishing" (i.e.: fishing in a shallow area) is considered to be quite technical, with the right guide and equipment, even a beginner fisherman (or woman! Or child!) can enjoy the thrill of the catch!
Part of the technique of this sport is to visually locate the fish, approach it slowly and quietly and then to skilfully place your cast. Then what you do is "stalk" the fish over the long flats.
Most of the time you will be seeing bonefish that weigh about 3 to 4 pounds. Some can go up to the 12 to 15 pound range, though. Bonefish travels in schools of up to 100 fish. Pound for pound, bonefish are said to be the best fight as compared to any other fish. But remember, they got their name for a reason, so better off that you don't try to eat them!
Please note, that in the Bahamas, possession of spear guns and spear fishing using scuba gear is illegal. This is to protect the delicate marine environment.
Here's hoping that you get an opportunity to try this distinctive sport while you visit Exuma!
Exuma Bonefish Guide Association: This is a great site to check out if you want to plan a bonefishing expedition or day trip while you are visiting Great Exuma.
Bonefish Exuma: To learn more about the sport of bonefishing and where you can practise it, check out the bonefishing packages at The Cays.
People who read this article were also interested in The Pinnacle of Sport Fishing: The Thrill of Bonefishing in Great Exuma, Bahamas.