Charter a Yacht: Planning a Charter Vacation in the Exuma Bahamas
The Exuma Bahamas is undoubtedly one of the top charter destinations in the world. With 365 different islands and 120 miles of shimmering emerald seas, it is easy to see why Exuma has become a popular spot for yachting enthusiasts. Whether you are a seasoned boater or a yachting newbie, it is possible to charter a yacht in a way that is sure to satisfy your wishes—all that is required is a little planning.
The yacht experience is arguably the best way to explore everything that the islands have to offer. There are many different options when it comes to chartering a yacht, and your choice can be based on your budget, skills, and preferences. To get the most out of your vacation and ensure that it is the exciting excursion you have always dreamed of, it is a good idea to devote some time and effort to planning your charter vacation.
Luxury Yachting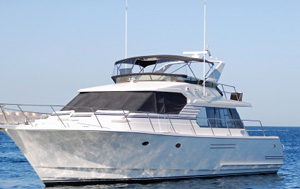 If a leisure yacht vacation is what you are craving, then booking a cruise on a private yacht with a full crew may be your best bet. This option comes with plenty of flexibility, lavish accommodations, and unparalleled service. You will be able to go anywhere you want in the Exuma Bahamas while having your every whim catered to, including gourmet meals and tropical beverages, all courtesy of the highly trained and attentive staff on board.
Bare Boat Charters
If you would love to be the captain of your own ship, you may want to charter a yacht with no captain or crew. This type of charter is often called a bare boat. Of course, some skill and experience is required in order to navigate your own ship, but if you have the know-how, the resulting experience should prove to be nothing less than exhilarating. Keep in mind that you will have to do some work on this type of excursion, including the preparation of meals.
Captain-Only Yacht
If you like the idea of being alone on the ship, but lack the skill to captain the yacht yourself, then you may be able to strike a compromise by chartering a captain-only yacht. The advantage of this option is that you will get lots of quiet, private time, with an expert at the helm. The downside to this route is that, without a crew, it will be up to you to maintain your quarters and prepare your own food.
An Economical Option
Chartering a yacht can be an expensive endeavor. If you are on a budget, you could consider sharing the cost with others. For instance, instead of booking an entire yacht for you and your party, you could choose to book a cabin(s) on a yacht and share the experience with other vacationers. Although it may not be the most luxurious or exclusive option, it can save you a ton of cash and provide you with a totally enjoyable, comparable experience.
No matter how you plan to charter a yacht in the Exuma Bahamas, you are destined for the trip of a lifetime. Whether you opt for the red-carpet treatment, a do-it-yourself vacation, or a shared yachting experience, the natural beauty and allure of this tropical paradise is guaranteed to please the senses. If you plan your charter vacation properly, taking the time and making the necessary introspection to determine the right option for you and your party, then it is sure to be a memorable trip that you will talk about for years to come.