The Top 5 Spas in Exuma
Everyone loves a little pampering, especially on vacation. Be it for families, couples or singles, the experience of a luxurious Exuma island spa treatment provides a lasting feeling of personal rejuvenation and restored balance. Here are the five most acclaimed spa facilities in all of the Exumas.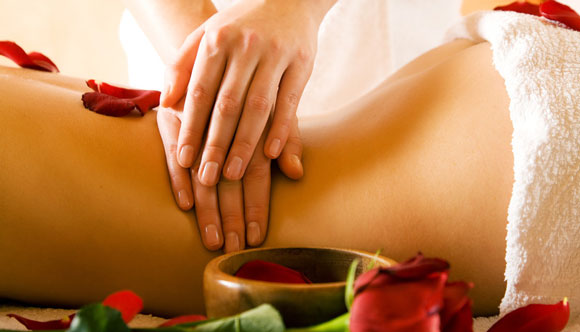 Red Lane Spa
Sandals Emerald Bay
Emerald Bay, Great Exuma

At the Red Lane Spa, guests are given the opportunity to gratify their senses tropical style with an array of traditional and contemporary massages, body wrap treatments, scrubs, facials, plus so much more.

Couples can reignite their passion by experiencing the luxurious "Scents of Love" massage together. With a therapeutic guide leading the way, it is a romantic journey filled with sensual aromas native to Exuma, soft candle light , and a lover's ritual involving heated massage oils.

Looking for 90 minutes of sheer euphoria? Look no further than the "Raindrop Dreams" spa treatment. Its essential purpose is to return guests to their "center" of being in order to re-establish that vital bond between physical and spiritual balance through deep aromatherapy.

A "Firm and Glow" anti-aging body wrap is just the thing to replenish the skin, giving it healthy, radiant glow. This signature spa service mixes no less than 26 of nature's most potent ingredients to thoroughly renew the look and feel of the body's precious shell.

The "Red Lane Signature West Indian" is an unparalleled Exuma spa treatment that blends calming island elements with muscle extension, compression and other manipulation techniques.
---
Grand Isle Resort Spa
George Town, Great Exuma

The famed SeaStar Spa offers a healthy choice of sensory delights that includes Balinese therapeutic massages, waxing, all-natural facials, hand and foot treatments as well as a number of other soothing body treatments. Also available is a wide selection of stylish salon services, such as manicures and pedicures . Many of their luxurious spa treatments include Phytomer, a nutritive organic element extracted from sea plants. It is a highly- effective skin care solution for various skin types.

The SeaStar will happily cater their spa packages to suit honeymooners, their wedding parties and guests. For the couple, u pon signing up for their exclusive "Wedding Bliss Package", the bride will bask in a treatment that includes a full-body "island glow sugar polish", refreshing facial, lava shell massage and French mani-pedi. Awaiting the groom is a sea salt exfoliating scrub as well as a facial and rehydrating hot stone massage, topping him off with a hot shell pedicure and paraffin wax manicure.
Even the kids can enjoy some pampering ! The SeaStar offers a children's menu of fun and relaxing spa services designed to please even the fussiest characters.
---
Hideaways Exuma
George Town, Great Exuma

Along Great Exuma's coastline is a cluster of quaint villas and cottages that make up the Hideaways Exuma resort. Far from the hustle and bustle of life, the serene, relaxed setting of Hideaways is perfect for those wanting to escape to a world of self-indulgence.
A chilled bottle of bubbly champagne welcomes guests to this tropical haven. Though there are many activities to enjoy, such as boating and swimming in one of the two freshwater pools, many come to unwind with a signature Hideaways Exuma spa treatment. These private sessions are available at the visitors' request. For the fitness-conscious, there is also a fully-equipped exercise facility on-site.
---
Turquoise Cay Boutique Hotel
Hartswell, Exuma

Facing the lavish five-star Turquoise Cay Boutique Hotel is a sea of sparkling turquoise waters . Home to two restaurants and three bars, itfeatures a celebrated world-class menu specializing in outstanding French, Asian and Peruvian dishes.

Self-indulgence does not stop there. This paradise resort also boasts an attractive assortment of massage, yoga and fitness services to suit all pampering needs and health levels. The Turquoise Cay Boutique Hotel can provide customized spa treatment packages for newlyweds and their entourage – ask and you shall receive.
---
Island Wellness Exuma
Exuma Islands

Offering an extensive range of spa, salon, massage and fitness services, Island Wellness Exuma is an outbound company that makes house calls for guests who want to keep up their exercise regime while on vacation, or just need a little pampering in the comfort of their own quarters.
All services are provided by a master certified in massage therapy, salon care, fitness, yoga and meditation .

Featured services include:
On-site chair massage
Swedish, pregnancy, deep tissue and sports massage treatments (60 / 90-minutes)
Couples' massage
Tissue reduction massage
Pilates, yoga and Zumba classes
Facials and body waxing
Haircuts, coloring, manicures and pedicures
Treatments can be rendered in a home, resort hotel, on a private island or even on a boat!