Boating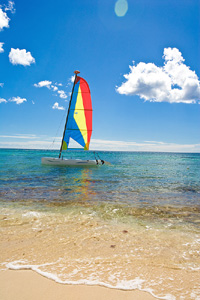 One of the distinguishing characteristics of Exuma is that it has some of the best boating in the world. There is a very active boating community here. Because much of the north shore is sheltered from the open sea by Stocking Island, even beginner boaters can give it a try. Besides sailing, this is also a great place to windsurf or kayak. Being surrounded by over 360 islands means that you will not run out of places to sail to.
Another thing that is great about this location is that it is not over-developed, so sea-life really thrives. As you dive into the warm, clear water you are sure to see tons of starfish and beautiful reefs. Although the snorkeling is good throughout the islands, and there are dive shops in between the airport and Georgetow as well as many organized tours in Georgetown. Check out Starfish Exuma Adventure Center for snorkeling tours. They also have bike rentals, sea kayak trips and boat tours.
What activities come to mind when you think "vacation"? Swimming and golf of course! Do not forget to bring your clubs, as the facilities that are available on Exuma will not disappoint. Some of the finest golfing anywhere is available at the Greg Norman golf course at the Sandals Royal Bahamian at Emerald Bay. For swimming you can choose from hundreds of beautiful beaches on the island, and many of the villa rentals also include pools.
People who read this article were also interested in The National Family Island Regatta: The World's Greatest Sailing Event.