Bahamas Shopping
Exuma
Shopping in the Bahamas Exumas is an eclectic experience. There is a variety of charming, one-of-a-kind boutiques, a straw market, and shops in many of the hotels including the Sandals Emerald Bay gift shops, and the main social gathering spot, Peace and Plenty.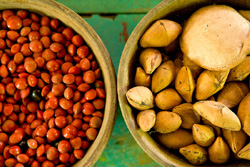 Markets
Exuma Markets provides an extensive selection of fresh produce, groceries, meat and dairy products. Exuma cultivates and exports internationally items such as guava, tomatoes, pineapples, mangoes, avocadoes and pigeon peas. The straw market, a mainstay of Bahamas shopping, consists of several stands clustered around an old ficus tree along the main drag in George Town. The vendors are friendly Exuman women happy to chat with browsers. Look for handmade baskets, mats and purses in traditional Exuman patterns and colors. You may also find other examples of local craft, produce and clothing.
Boutiques
Another mainstay of Bahamas shopping, Androsian batik fabric by the yard, can be found at:
Androsia of George Town, George Town Airport
Club Peace and Plenty Gift Shop, George Town
Starfish Adventures, George Town
The Peace and Plenty Boutique also carries men and women's sportswear, and such staple items as suntan lotion and film.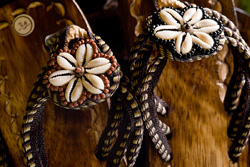 The Sandpiper, (up the hill from Peace and Plenty) carries high-quality Bahamian arts and crafts, and original serigraphs by Diane Minns. Drop by to watch Diane at work as she creates her unique silk-screen T-shirts.
The Two Turtles Inn, also a popular meeting spot, has a quaint little boutique that sells clothes and gifts. Etc.
Hardware needs can be met at Clark's Hardware or Darville's Store.
Top and Bottom sells marine hardware and tackle.
Golfers need look no further than the Four Seasons gift shop.
Try Exuma Liquor and Gifts for beer, wine and liquor.
Local philosopher Denzella Rolle's N & D Fruits and Vegetables offers fresh local produce as well as ice cream, conch salad, coffee and hot dogs.
If you find yourself in town on a Monday or Thursday evening, check out Eddie's Edgewater across the pond for free hors d'oeuvres and local tunes.