Undiscovered
WARNING: Visiting Great Exuma may make you jaded against places that have become tourist traps.
Going to the same places that everyone else goes is great if your only goal is to gossip with your friends about the staff when you get back. Although it can be comforting to go to places that you have already visited, so many vacation spots have become over-popular and subsequently over-run.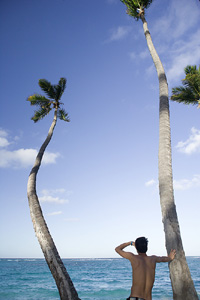 Think of all the things that you dislike about when you are at one of those over-used resorts.
Over-developed landscape
Over-enthusiastic staff
Pressure to "join in" to activities
A feeling of "been there, done that"
Less of an environmental focus
Limited access to the locals and local culture
General noise and crowds
Insufficient seating on beaches and at restaurants
Great Exuma is known as "the opposite of a tourist trap". There are not even traffic lights or over-head power lines. The landscape is not over-developed; in fact most flora is local. Loud jet skis and boats are so rare, that there are many days when you can go without even hearing one. Also, cruise ships do not visit Great Exuma island.
There is a sense of privacy and serenity that you just do not get at most other destinations. You can sit at the beach or at the pool all day and only see a handful of other guests, in fact most of the time you may be the only one on a beautiful beach. No fighting over pool chairs. You can even eliminate the now famous trick of running down to the beach before breakfast to "claim your stake" by placing your towels on a beach chair!
In fact running anywhere in the Bahamas is highly discouraged. To fit in with the Bahamian lifestyle you must never be in a rush.