Georgetown Map Key
WARNING: Drive on the Left. A one-way system operates in Georgetown. See legend below.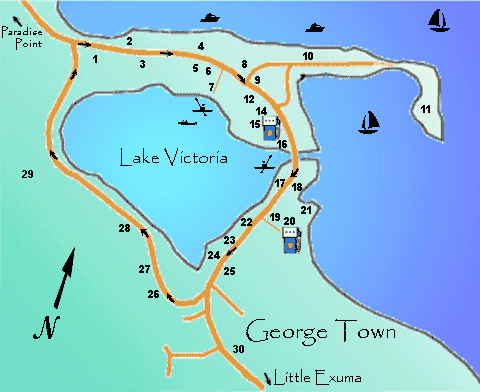 See the same region with Google maps.
Ministry of tourism: Office located across from the Anglican Chriceh in George Town. Further information about Exuma and the Bahamas available there. Phone 242-336-2431. Open 9 a.m. to 5:30 p.m. Monday through Friday Closed on Public holidays.
1. Fisherman's Inn Restaurant: 242-355-5016 - Very good food. Keep in mind, it is quite a drive out to Barreterre which is known for traditional boat building.
2. Kermit's Hilltop Restaurant: Lunch, dinner; located in the middle of Rolleville.
3. Tracy's Market: small well-stocked store, Tracy is great - follow sign from road. Open 7 days a week.
4. Big D's Conch Bar: Great for sunset conch salads - right on beach. Open Thurs-Sun.
5. The Palms at Three Sisters: 242-358-4040 - Offers elegant dining and Bahamian cocktails overlooking the beach.
6. Iva Bowe's Restaurant: 242-345-7014 - Great conch fritters, excellent fish.
7. Airport Car Rental: 242-345-0090
8. Kermit's Airport Lounge: 242-345-0002 - Excellent native food.
9. Paradise Point
10. Coral Springs Water: The water is safe to drink. However, if you prefer bottled water, you can save money here. It is cheaper than the markets. If you bring in your containers to be refilled, you can save even more money and recycle at the same time.
11. Smitty's Market: Small market with food and notions.
12. CNK Liquors: Small liquor store.
13. Coconut Cove Restaurant: 242-336-2659 - Lunch, dinners overlooking the beach.
14. Peace & Plenty Beach Club: 242-336-2093 - Lunch, dinners overlooking the beach.
15. Out Island Inn: This now deserted hotel seems to function as the island's tennis center.
16. Old Navy Base: Join in the fun at the Wednesday night public fish fry! Lots of food, drink, and music.
17. February Point Resort Estates Office: Offers luxury villas for rent or purchase, also Tennis and Bistro 242-336-2661
18. Doctor's residence
19. Clinic
20. Community center
21. Anglican Church
22. two turtle's – bar, restaurant, hotel
23. Laundry, dry cleaners, dept. Social Services
24. Exuma Markets, Groceries, Ice, Drugs
25. Public Telephones. BATELCO fax services, etc.
26. Roman Catholic Church
27. St John's Baptist Church
28. Starfish, Exuma adventure center 242-336-3033