Three Sisters Rock: Exuma Islands' Legend
Aside from the unparalleled beauty of Exuma Islands, the area offers a lot of history and fascinating legends, one of which is the story of Three Sisters Rock. Flying over the numerous island cays, you will not only marvel at the water's multi-shades of blue, but you will also spot the legendary rock formation known as Three Sisters Rock. They can also be viewed from the beach or further explored while snorkeling in the crystal-clear waters of the Caribbean.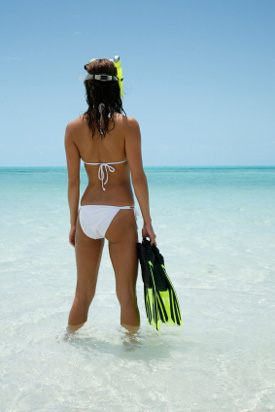 A Tale to Tell
Just what makes lovers flock to Three Sisters Rock in the Exuma Islands? It is said that just a glimpse of these peculiar rocks can spark romance and magic, especially when one is sitting on the beach in Mount Thompson, gazing at the sun setting behind these mysterious shapes.
Through the years, the fascinating tale of this rock formation has played an important role in Bahamian folklore. The story begins in the usual way: a long time ago, an English captain came to the Bahamas on his ship in search of a treasure. A violent storm forced him to seek protection on Exuma Island, where, in addition to reaching safety, he met three sisters, all equally beautiful. Each one immediately fell in love with him.
When the day came for the captain to leave Exuma's peaceful haven and set sail, one by one, the infatuated sisters jumped into the sea to follow his ship. Each one drowned trying to pursue the love of their life.
In the spot where each sister died, a mystical rock erupted out of the ocean, marking the location of their tragic death. Since that time, Three Sisters Rock has been deemed a place of romance and, oddly enough, good luck. Today, many couples choose to exchange their wedding vows there, confident in their belief that the myth will inspire a long and wonderful union.
A Memorable Spot
The ideal place to see Three Sisters Rock is in Mount Thompson, at the beach named after the three women. This lightly populated area in the Exuma Islands offers beautiful hotels and lovely vacation rentals, as well as some excellent restaurants. However, if you prefer a little more action, lively Georgetown is but a quick car ride away.
Snorkeling and Diving
You will enjoy snorkeling and diving in Exuma, especially in the area of Three Sisters Rock, as schools of colorful fish abound around the rock formations. In fact, visitors come from all over the world to swim, snorkel and dive in these turquoise and emerald waters. Many of the islands' shores are made of limestone rock which extends into the sea, presenting countless crevices and ridges and holes to explore. These structures create an ideal habitat for various marine life as it provides not only hiding spaces from predators but also protection from the powerful tides.
Some of the creatures you can observe in this area of the Exuma Islands are crustaceans, mollusks, annelids, echinoderms and a wide variety of tropical fish. Crabs and sea urchins hide under ledges while sea anemones and limpets attach themselves to the rock. Sea plants are grouped in red, green or brown and sway in the sea currents. Closer to shore, keep your eyes open for peacock worms, rock oysters, sergeant major, common blue crab, common hermit crab and clubbed finger coral. It is a spectacular watery paradise that nature lovers should absolutely explore.