Great Exuma Hotels
Your decision is made – you are taking an excursion to the remarkable chain of islands and cays in the Bahamas known as the Exumas, where the accommodations are truly unique and exquisite. Each one of the Great Exuma hotels is guaranteed to meet your holiday expectations. Your only problem may be choosing which hotel best suits your needs!
---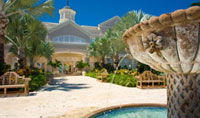 Sandals Emerald Bay
If you are looking for an Exuma hotel that is in its own class, look no further than Sandals Emerald Bay. This award-winning hotel was previously the Four Seasons but is now a Sandals Resort. With countless outdoor activities to choose from such as a championship golf course, scuba diving, tennis, beach volleyball, and more, extravagant rooms with incredible amenities where all of your wishes and desires are catered to by your own personal butler, you will be able to get anything you want at the snap of your fingertips. At Sandals Emerald Bay, it really is all about you.


---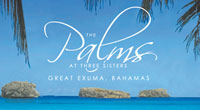 The Palms at Three Sisters
Located on the oceanfront in Great Exuma in the Bahamas, this resort offers waterfront homes and condos in some of the most beautiful land on Great Exuma. If you're looking for a escape to a remote island, this hotel is a charming and affordable. All rooms and suites face the ocean and offer spectacular views. The hotel is located just a short distance away from George Town. Island excursions can be arranged. The hotel includes a restaurant, a tennis court, and a private beach is just steps away.


---

The Peace and Plenty Club
This 32 room resort includes 3 two-room suites overlooking Elizabeth Harbor, and choices of room ranges from waterfront, poolside rooms and garden suites.
All rooms includes AC, ceiling fan, mini fridge, coffee maker, private bath/shower, private patio and cable TV. The hotel restaurant offers full service for breakfast/lunch and dinner with a "Bahamian" special at each meal, and carries 2 bars, the "Pool Deck" bar and the "Slave Kitchen" bar which is air conditioned. The Hotel is situated right in the heart fo George Town where shopping, boat and car rentals, snorkeling and diving are accessible to hotel guests and visitors.


---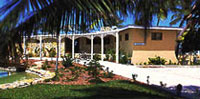 Coconut Cove Hotel
Featuring 11 air-conditioned beachfront and beachside rooms, each with private terrace, private bath, refrigerator, queen-sized beds, and various other luxuries, Coconut Cove Hotel ensures that your stay will be absolutely perfect. Not only does this hotel have a beachfront freshwater pool, but it also boasts a "Sandbar" where you can enjoy a tropical drink under a tropical sun. In the main dining room, where the Coconut Stove Chef can personally prepare a gourmet breakfast and dinner of your choice, the ambiance is delightful. Dietetic food and special cuisine is available upon request. You can opt to eat al fresco, in the dining room salon, or in the comfort of your room.


---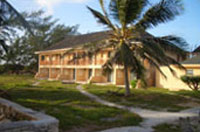 Exuma Palms Hotel
Out of the several Great Exuma hotels at your disposal, Exuma Palms Hotel is certain to grant you a quiet, peaceful, and relaxing experience because it offers only 12 rooms. Situated on spectacular Three Sisters Beach, it is considered by Bahamians to be a place of good luck and romance. Due to this belief, many couples choose to get married on Three Sisters Beach Island. Rooms have 2 queen beds, Internet, refrigerator, microwave, coffee pot, desk and chairs, as well as other convenient amenities. Cable T.V's in rooms. There is a full-service restaurant and bar that serves breakfast, lunch, and dinner. You can choose to eat at the restaurant or have your meal delivered to your room, depending on the moment's mood.


---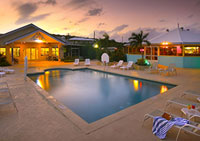 Hideaways Exuma's Beach Front Hotel Club
Located only 7 miles from Exuma International Airport and one mile from George Town, the fantastic Hideaways Beach Front Hotel Club can keep any guest happy and totally satisfied. With its swimming pool, sandy beach and beach bar, water sports, and full service outdoor restaurant, this hotel's casual atmosphere assures you a terrific time. It features over 42 beachside cottages and hillside villas with a choice of studio, 1 bedroom, 2 bedrooms, and a full or partial kitchen, all of which are geared to make your stay fun, comfortable and relaxing.


---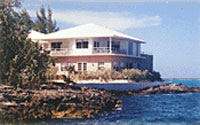 Regatta Point
When it comes to Great Exuma hotels, Regatta Point is a top-of-the-line hotel that consists of 6 suites, each one extremely spacious, with a magnificent view from the patios and porches. The complex overlooks the beautiful blue waters of Elizabeth Harbour, and is only 5 minutes away from many shops and restaurants. When hunger strikes, you can be catered to or cook for yourself if you so desire! With a wide variety of activities, all within minutes from the hotel, Regatta Point offers one of the best locations in the Great Exuma.


---
People who read this article were also interested in You Want Paradise? Try Sandals Resorts & Great Exuma Sandals Resort in the Bahamas: Great Exotic Excitement.