Exuma Real Estate:
Island Living at its Best
Warning: Buying Exuma real estate turns everyday into a vacation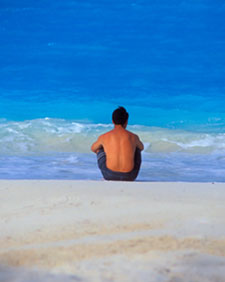 With over 300 islands (most uninhabited), the Exuma Cays offers a Caribbean paradise with breathtaking views as well as prime Exuma real estate. Whether you are searching for a condominium, a colonial home or a private island, Exuma has it all.
Some real estate projects
There are numerous projects being developed in various parts of the cays.
February Point boasts oceanfront properties for construction of estate residences and villas.
The resort at Emerald Bay is now run by Sandals (Previously Four Seasons) This resort has luxury condominiums and villas as well as an 18 hole golf course, a spa and five restaurants to choose from.
The islands also offer smaller properties such as the two-storey, waterfront apartments being developed by Exuma Island Property. For a listing of all properties available in Exuma, visit Bahamas Realty. Once you are ready to start searching for your dream home, consider the following advantages and costs associated with owning property in The Bahamas.
Owning property in Exuma
Thanks to laws passed in 1994, it is now easier than ever for non-Bahamians to own property in the country. To stimulate investment, the government has eliminated the double rate of stamp duty that foreigners were forced to pay. The tax-free economy, business-friendly laws and affordable luxury realty are sure to seduce you during your next visit to Exuma.
Real estate not only for locals
Non-Bahamians are allowed to buy developed or undeveloped property, as long as they register the purchase with local authorities. Some properties may require permits or a certificate depending on the value of the property.
The costs of owning Bahamas Real Estate
1. House and Land Purchase. Real estate in Exuma offers everything from condos to private islands. Talk to your agent for a better estimate of the price of realty based on your specifications.
2. Legal fees - Both the buyer and seller are responsible to split the Legal fees on the sale of a property which are usually 2.5 % on the first $500,000, another 2% of the next $500,000, 1% of the next $4,000,000 and .5% thereafter. There are a number of experienced law firms based in Nassau, Bahamas.
3. Stamp Duty. The stamp duty is the sales tax split equally between the vendor and purchaser. The rate varies from 4% to 12% depending on the value of the property.
4. Property Tax. Property tax in The Bahamas varies from zero to 1.5% depending on the value of the occupied residence.
5. Real Estate Commission. The real estate commission in The Bahamas is 6% for developed property and 10% for undeveloped property.
6. The little things. Of course, don't forget the other fees of owning property such as electricity, telephone services, landscaping, general property maintenance and insurance (optional, but recommended).
Ready to buy Exuma real estate
Once ready to purchase your Exuma real estate, contact an agent registered with The Bahamas Real Estate Association, a member of The Bahamas Chamber of Commerce. Their site features ample information on costs, laws and, most importantly, access to a database of real estate agents ready to help you find your dream home. Or there are many developments selling land and villas directly, many of which have detailed websites. Once you discover all that Exuma has to offer, you will fall in love with this island paradise. Sunny days, sandy beaches, clear water, and warm people: it doesn't just have to be a dream.
Read more about homeowners advantages and the secluded Caribbean islands in the Exumas.