Great Exuma Resorts
Great Exuma is the largest island of the 365 islands that make up the Exumas in the Bahamas, where the average daily temperature is an ideal 78 degrees. When your dream vacation includes one of the luxurious Great Exuma resorts, all your expectations are sure to be met!
Exuma is a string of islands and cays, home to forgotten hideaways, natural harbors, secluded beaches and exceptional real estate developments. The Bahamas has become one of the world's financial centers and has drawn capital from around the world. It is now a hot real estate market. Development of Great Exuma resorts has soared in the last few years as the islands welcome some of the world's wealthiest people. Luxury rental properties in Exuma offer first-rate modern amenities, spectacular panorama, and exclusive privacy. Located within close proximity to the United States, numerous commercial flights are available as well as the convenience of private airports.
When we plan a vacation, one of the biggest deciding factors is where to stay. We seek comfort, convenience, and we would like 5-star service. Well, 300 miles off the coast of South Florida and 130 miles Southeast of Nassau lies Great Exuma, and there you will find what you are looking for. The Great Exuma resorts offer luxury, impeccable service, and relaxation in a paradise setting.
Listed below are some popular Great Exuma resorts.
Sandals Emerald Bay

Previously known as the award-winning Four Seasons Resort Great Exuma, the Sandals Emerald Bay is now part of the Sandals franchise and one of the best 'adults-only' resorts in the Bahamas.
Extending over 500-acres and located on a one-mile crescent shaped beach, the Sandals Emerald Bay houses five restaurants, an 18-hole championship golf course designed by golfer Greg Norman, a full-service marina, and 183 beachfront villas and suites, which are separated into three "village" areas: The Seaside Villas, Emerald Bay Village and Ocean Village. Each one is simply breathtaking - from spectacular views to beautifully-designed interiors - you will simply not want to leave. Moreover, butler service is available.
This Great Exuma resort offers gourmet a-la-carte dining, premium wines and spirits, and anytime snacks. You can enjoy land sports such as beach volleyball, and water sports such as kayaking, windsurfing and boating. And you can indulge in the 16,000 sq. ft Red Lane Spa. Here, you are treated like royalty. Gratuities and airport transfers are included.
Musha Cay: The Islands of Copperfield Bay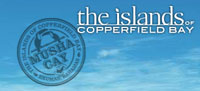 Located in the beautiful waters of the Bahamas in the "out-island" Exuma chain of islands, Musha Cay is the ultimate private island experience. Here, the sponsor guest and his personal invites have exclusive use of the island's more than 150 acres. Only one group at a time is allowed, with a maximum of 24 guests to ensure the total privacy. Guests may choose to stay in their own private 10,000 square-foot house, or a thatched-roof beach house far away from any another human being. This is a secluded multi island retreat near the owned by the famous magician David Copperfield.
St Francis Resort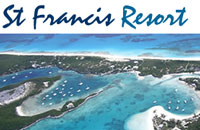 Located on Stocking Island, St Francis Resort a hidden jewel of the Bahamas. It is a short ferry ride over from the mainland. St Francis Resort offers five miles of white sand beach for your enjoyment, and a variety of water activities including snorkeling on Exuma's most wonderful reefs, Hobie Cat sailing, and kayaking around Stocking Island's underwater caves. All rooms overlook the beautiful Atlantic Ocean with spectacular views, with the beach just mere steps away.
Oceania Heights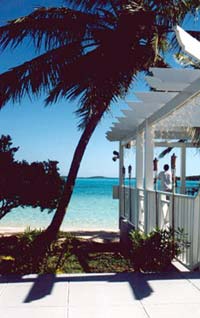 Oceania Heights is an exclusive gated community in Great Exuma, featuring 125 home sites where guests feel safe at all times as the guard is on duty 24 hours a day. Palm trees line the roads and stunning scenery surrounds the villas. From your balcony, you can admire not only the Atlantic Ocean but also the Caribbean Sea.
It offers stunning, well-furnished villas for rent, as well as fully-serviced estate-size individual lots for sale to those who wish to build a customized home. Oceania Heights will closely work with you and your architect in the design and construction of a high quality home. Oceania Heights features all the amenities of a first class resort with the exclusive privacy and laid-back lifestyle of The Bahamas. It is conveniently located just 15 minutes from the Exuma International Airport and is right next to a two-mile beautiful sandy beach.
Painted in pastel colors, the 2-plus bedroom villas are equipped with a full kitchen, giving you the choice of "in-house" dining. You can prepare a romantic dinner for two, or hire a private chef to plan, cook and serve a seven-course meal for you and some friends. A swim in the private pool or a walk along the three-mile beach is a perfect end to the evening.
You will not be bored at Oceania Heights. You can opt to spend your energy on various water sports, or play a game of golf, or relax and read a book on the beach - every interest is satisfied. A venture outside the resort to visit the Exuma Cays Land and Sea Park is an interesting option. Many guests take an organized tour of the island, while others rent a bike or kayak to explore their surroundings. This Great Exuma resort is family-friendly and baby sitters are available.
February Point Resort Estates
Located in the heart of Great Exuma, February Point Resort Estates is an upscale resort community offering some of the most coveted oceanfront property in the Caribbean. All villas on the 80-acre peninsula are oceanfront and luxuriously furnished with fully equipped kitchens, dining rooms and large bedrooms. This Great Exuma resort boasts 145 units, including 70 custom homes, 60 villas, and 15 villas sold as one-quarter share fractional units. Among its numerous amenities are a business center, a fitness center, three marinas, two tennis courts and a restaurant. Owners can also opt to place their homes into February Point's rental program in order to rent their units when they are away.
Crab Cay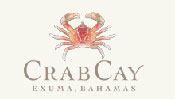 Crab Cay is a new development located just 15 minutes by boat from February Point, and half a mile from Georgetown. The $240-million project broke ground in 2003. The eco-sensitive resort boasts villas, a hotel, a marina, restaurants, shops, a fitness center, and a fully computerized business centre. Residents may rent out their villas and derive tax-free rental income while they are away.
Grand Isle Resort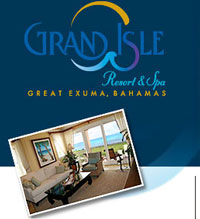 Grand Isle Resort blends convenience and luxury with the level of casual and tropical lifestyle that can only be found in The Bahamas. It is located on the highest elevation within the 500-acre Emerald Bay Resort and is nestled between the Four Seasons Hotel, a signature golf course, and the Caribbean's largest full-service marina. The villas showcase outstanding craftsmanship and elegant furnishings to ensure splendid comfort. The seventy-eight beautiful seaside resort villas make Grand Isle Villas stand among the best Great Exuma resorts.
Whether you are looking for a family vacation, romantic getaway, wedding/honeymoon spot, or just a relaxing beach holiday, this golf and oceanfront villa resort will astound you. It consists of 87 luxurious 1, 2, 3 and 4 bedroom villas, as well as penthouses, each with spectacular, panoramic views.
While boutique hotels are known for their personalized service, Grand Isle Resort and Spa offers the same benefits and more. Employees know your name, know how you like your coffee in the morning, and know how you like your turndown service in the evening.
This Great Exuma resort offers an excellent babysitting service. While the children are being entertained, adults can indulge in the luxury of the world-class Sea Star Spa, have fun in the various bars, or just relax in the resort's infinity-edge pool, knowing that the kids are well-taken care of.