Exuma Cays
WARNING: You will not run out of things to do.
Exuma Cays Land and Sea Park: a natural wonder waiting to be discovered
Exuma Cays in the Bahamas is renowned world-wide for its great beauty and friendly people. It is not only an attractive tourist destination because of its sheer beauty and slow-moving pace, but this incredible island also boasts of the world's first land and sea park.
Experience the Thrill of the World's First Land and Sea Park
The land and sea park in Exuma Cays was the first of its kind in the world. Located approximately 65 miles southeast of Nassau, this natural wonder was established in 1959 by The Bahamas National Trust. It stretches for 176 square miles and is a popular destination for diving enthusiasts. Although divers are permitted to swim amongst the cays and reefs in the park, the area and its vast population of marine life are protected. In 1986, the area was established as a no-take fishery reserve to ensure that the numerous ocean creatures were protected.
A World Teeming with Life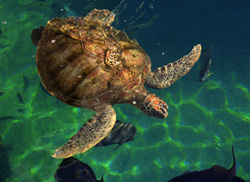 When swimming the waters of this natural phenomenon, you truly do not know what you will encounter. The park is alive with color and activity as fish of every kind swim before your eyes. The efforts made to protect the population of creatures in this park have resulted in the increased growth of important species such as queen conch, Nassau grouper and spiny lobster. When visiting this water world, you will most certainly want to bring an underwater camera to capture the wonders of marine life all around you. Do not be surprised if you see a beautiful sea turtle swimming amongst the coral reefs. Although this park is characterized by water, the land area is as fascinating. It serves as a refuge for several rare and endangered Iguanas, marine birds such as Terns and the long-tailed Tropicbird, and a small mammal called the Hutia.
A Tour of the Exuma Cays Land and Sea Park is a Memorable Experience
Be sure to take a guided tour of the Exuma Cays land and sea park. There are many experienced guides in the area who can tell you all about the various marine and mammal life in the environment. Bahamians are very proud of this spectacular park and are always delighted to share their enthusiasm with you. The best experience is to rent a kayak and allow a guide to steer you across the sapphire-coloured waters and atop coral reefs teeming with exciting and mysterious marine life. The Exuma Cays land and sea park is truly one of the great natural wonders of the world.