Great Exuma, Bahamas
WARNING: Getting to know Great Exuma, Bahamas may make other places that you have visited seem lame.
There are many beautiful places on Earth. You can probably think of a few wonderful locations that you have already visited that make you wish you were there all the time. If you close your eyes, you can probably picture yourself in one of those places right now…
Are you imaging a place with perfect weather—soft breezes and a warm, non-humid temperature? Are you picturing a spot that is not a tourist trap—no high-rise hotels, not over-developed? Is the water an unbelievable, clear aqua-marine color that leaves you staring at the horizon. Does your ideal spot have endless nooks and cays to explore—you feel like you could never run out of things to see and do there?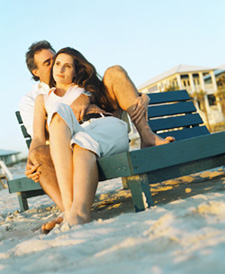 Exuma is part of the chain of cays and islands that form the Bahamas. These islands stretch lazily across the Tropic of Cancer about 300 miles southeast of the coastal United States. Great Exuma, the largest of the Exuma islands is home to Georgetown, a charming Caribbean city that you must visit. There are flights to the Georgetown airport from Nassau and Miami. See Georgetown map.
Imagine that you could not only be a tourist in such a place… you could become one of the locals and yet, still be surrounded by people you know and love. It is possible! It is called Great Exuma and it is in the Bahamas. According to the Washington Post, Great Exuma is one of the "10 most desirable international locations".
Click here to read about some Great Exuma Resorts where you can rent a villa, popular hotels, choose a fractional ownership or build your own villa on an exclusive property. Or, for rentals, choose from a list of private Bahamas vacation rentals at FindRentals.com with many options in Great Exuma. You can also find all inclusive vacation packages at Sandals.com to save on your major travel expenses. Check availability for vacation rentals at VRBO for your travel dates.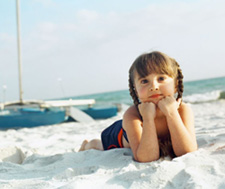 So, let's say the Washington Post is not enough of a recommendation for you… you are the type of person who is not willing to take some reporter's word for it… that is understandable! You need to know more about this place.
If you are like me, you want to know behind-the-scenes information. You like to know about a place before you go.
Just south of Great Exuma lies the island of Little Exuma, which measures a modest six miles and is home to some of the most lush vegetation in the area. Read more about it.
Click image to see the detailed larger map.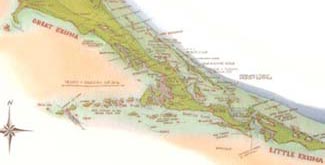 Enjoy our latest articles.
You Want Paradise? Try Sandals Resorts
Great Exuma Sandals Resort in the Bahamas: Great Exotic Excitement
The Exuma Islands – Golfer's Paradise
Bahamas Travel Tips: How to Save Money on your Bahamas Vacation

Also enjoy some of our previous articles.
Bahamas: A Family Vacation Destination
Junkanoo Summer Festival
Bahamas Cruise Tips – What you need to know
Not just Sun & Surf: Top 10 Things to do in Exuma, Bahamas
Planning your Bahamas Beach Wedding
Swimming with Dolphins in Great Exuma
See more of our original articles.
Special Guest Article:
Great Exuma Bahamas First Ever Regatta 1954