Great Exuma Island is the Perfect Caribbean Honeymoon Destination
For many newlyweds, deciding on where to spend their honeymoon vacation is as important as the wedding itself. A Caribbean honeymoon is a popular choice, but which one of the islands will make your "dream come true"? Each one is different in what it has to offer. Much like contemplating between hiring a DJ or a band, you need to know exactly what it is you are looking for. Great Exuma Island in the Bahamas is able to appeal to many tastes. Whether you are looking for relaxation, culture or adventure, this island has it all. Moreover, Great Exuma is a Caribbean island famous for perfect weather, stunning scenery and above all-romance.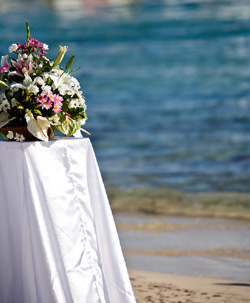 Great Exuma Island has a population of fewer than 4,000 people and offers peace and serenity. In comparison to other Caribbean islands, Great Exuma is not overrun by tourists and cruise ships. On the contrary, the island is relatively secluded and offers you the chance to hide away on a pristine white sand beach, or enjoy a picnic in a private cay.
If culture is what you are looking for, Great Exuma has it in abundance. Visit the remains of cotton growing and salt farming plantations at Williams Town. Or, take a trip to the fascinating ancient salt ponds. History comes alive at Elizabeth Harbor which was once a favorite haunt for pirates. The harbor is home to the Exuma Cays Land and Sea Park, the first land and sea park in the world to be declared a national park.
Adventure seekers will be enticed by the endless amount of activities available on Great Exuma Island. Sailing, scuba diving, snorkeling and fishing are popular. Experienced guides are available for hire and they are most happy to inject extra adrenaline into your Caribbean honeymoon. For the more daring types, rent a boat or a sea kayak and explore the island on your own. Whatever your taste, Great Exuma can certainly cater to it.
The time spent on your romantic Caribbean honeymoon should be memorable. Every couple should be able to look back on that vacation and wish that they could do it again. The island of Great Exuma in the Bahamas guarantees lasting memories and days and nights of sun, fun and romance!
People who read this article were also interested in Planning your Bahamas Beach Wedding.
About the Author:
Fred Coolridge is the content manager and author for the website Great Exuma Island, Bahamas - www.exumabahamas.org.